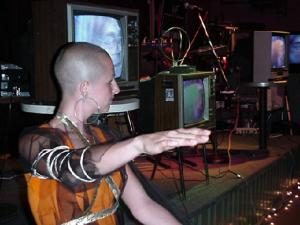 So now it has happened, and we are left with the memories, digital as well as cellular…

Here is a review of the show prepared by Randi Cecchine:
What is your Techno-Bondage?
By Randi Cecchine
Local and international artists explored their relationship to technology at TECHNO- BONDAGE, a very unusual night of performances at the Arlington Hotel on August 11, 2001.
Hijack is an initiative to create live multi-media events organized by local artists Wayne Elliott, Lester Alfonso and Tammy Foreman. Assembling an ad hoc crew of dancers, musical performers and other creative souls, Hijack took over the Arlington Hotel on August 11 to put on Techno-Bondage: a New Millennium Cabaret. This "film with live acts aims to illustrate the positive and negative aspects of technology in our lives," says organizer Wayne Elliott. The event posed important questions about our reliance upon technology while embracing the ways in which technology supports our lives and creativity.
Artists from Toronto, New York and India converged in Lake St. Peter on August 10th to explore the theme and prepare for the event. The artists enjoyed the opportunity to get to know each other and build a sense of community in this beautiful landscape away from the stresses of their cities and daily lives.
Lester Alfonso edited together more than 50 minutes of video on his digital editing system and was presented on multiple television sets on the stage at the Arlington. The video offered the live performers an interactive backdrop of music, abstract images and interviews. Renowned classical Indian dancer Deepti Gupta choreographed a group of dancers to traditional Indian and Japanese music, their movements echoing video images of chem-trails streaking across the blue sky (among other things) appearing on the television sets. Bringing audience members up to the front to dance early in the event helped to break the barrier between performer and audience and highlighted the vitality of live performance in comparison to the solitary experience of watching TV or sitting at a computer at home.
Interviews with local heroes like Andy Connelly speaking with honest down-home wisdom provided the audience with some comic relief and helped make us realize that all this art making is actually happening in Maynooth. Wayne Elliott's spoken word performance of "Point of Release" and "Needles of Communication" echoed the underlying theme of the event–artists embracing technology to further creative expression and exploration of the soul.
This intimate use of technology was most striking during local singer / songwriter / musician Tammy Foreman's performance of "I've Got the Strength of 10 Women." Foreman stood quietly on stage unbraiding her hair as the 7 television monitors in front of her played a music video shot by Lester Alfonso in their home. Ex-commercial video editor Alfonso's use of wireless microphone technology allowed the audience to hear a private interaction between the couple–an exchange revealing the power of Foreman and Alfonso's creative collaboration and marking the strong contrast between personal video-making and the distant slickness of mass media
In the second act Alfonso premiered his captivating video essay on the mixed-media works of artist Tom Feenstra. Musicians Uyugomiak (Adam Thompson) and J.L. Blank (Dave Misener) performed and the receptive crowd begged for an encore as they got off their feet and started dancing. DJs Katikata and Elstar from Toronto spun records late into the night as participants and performers converged on the dance floor and watched the videotape of the night's earlier performances on the TVs.
Hijack organizers hope to bring "Techno-Bondage" on the road and will be releasing a 90 minute videotape of the event.
Randi Cecchine is a video-maker and media educator living in Brooklyn, New York. Her most recent project "Scrambled; A Journey Through Polycystic Ovarian Syndrome" explores the impact of an extremely common but not well-understood medical condition. Randi enjoyed participating and documenting "Techno-Bondage" and looks forward to her next visit to the Bancroft area.